Fast, Powerful Vendor/Customer Setups
Field being edited has a yellow, highly readable, background. See 'Name ' field.
Click on any field to jump directly to editing it.
Click on 'Photo' button to take & store an vendor's photo or business card. (digital camera required)
Type in 'Their acct# for you' and then your account number will be printed on your checks to them.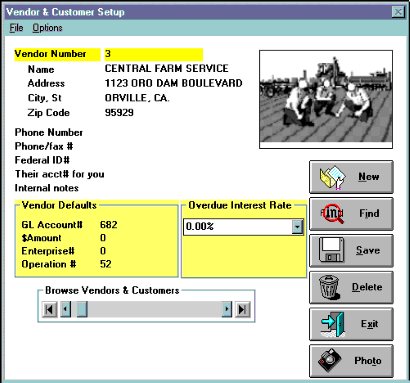 User Friendly General Ledger Check Input
Input screen looks like a check with your company and your bank name on it.
Speed search code number fields.
Touch F6 to make a calendar appear in date fields.
Touch F4 to display a list of all pending checks.
Enter equations in quantity and dollar amount fields, if you wish.
Enter the total amount of the check, if known, and the program will keep showing you the net amount left to enter.
Edit lines in the grid. Click and drag lines to the trash can to delete them.