Fast, Powerful, Payroll Setups
Field being edited has a yellow, highly readible, background. See 'Name ' field.
Click on any field to jump directly to editing it.
Click on 'Photo' button to take & store an employee's photo. (digital camera or scanner required)
Click on 'Badge' to print an employee photo ID badge with bar code employee numbers.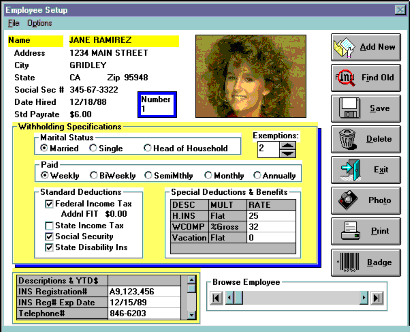 Timecard Data Entry
Employee's photo from setup reappears.
Under 'Edit' pulldown menu, you can assign employees to Crews.
Timeclock will calculate the hours worked.
Date and time is stored automatically. Touch your F6 key in a date field and an on screen calendar will appear.
Touch F4 to display a list of all pending checks.
You can enter a memo for each timecard line.
In the Enterprise, Operation and Equipment number fields, a popup list of codes will appear that can be Speed Searched by typing or by clicking on the desired code.
Import/Export can use scanner devices to automatically input piecework, hours worked, and cost accounting information.
Click and drag timecard lines to the trash can to delete them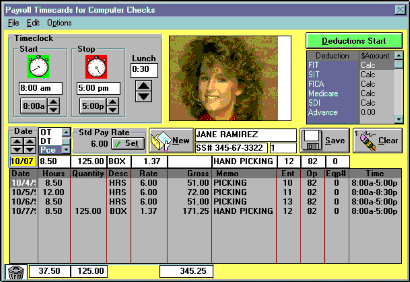 Use laser scanners, memory button readers, etc. to automate payroll data entry.

Speed Search
Type the first letters or numbers of any code and a Search List appears and jumps down to the closest match.