Report Request Screen
Under the File pulldown menu, Choose GL, Payroll, or Management Reports. Management reports are Cost Accounting by field and/or crop, by equipment number, etc. As you can see from this screen caption, 'GL Reports' was chosen in this example.
Choose which month or months
Choose Report Destination including fax output, laser printer, or color printers. All installed windows printers will operate at their full graphic and color potential.
Choose report to print.
Click on 'Screen Preview' to look at the report on screen to save both time and paper.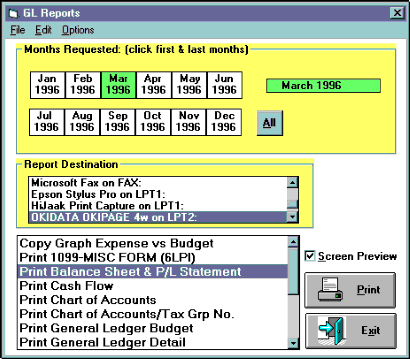 Screen Preview
Reports are in color with different fonts, sizes, and styles for easier reading.
Click the printer button to print the entire report.
Click the single sheet button to print just this page being viewed.
Use the magnifying glass buttons to zoom in and out.
Click the arrow buttons to move forward or backward pages.
Click the square stop button to exit back to the Report Request Screen.
Use the scroll bars on bottom and right edge to move up, down, left, and right on this screen.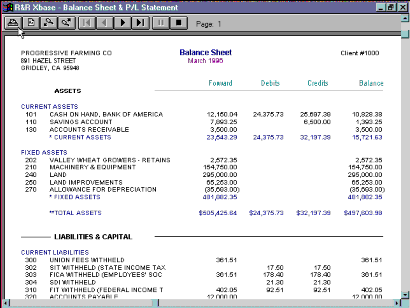 Full Color Graphs
Year-to-Date Actual Expenses are shown versus the Annual Budget. The expenses (shown in red) are listed in order from the largest expense to the smallest. Full Windows' graphics make for powerful management tools.